Today might mark the start of a new week but we're going to shake things up with a good old throwback to an artist who has been part of the GigTown community for quite some time.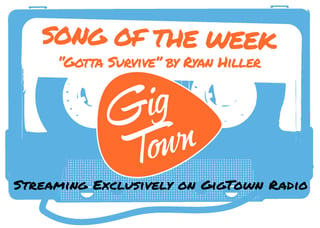 Since GigTown is always growing and new artists and fans are constantly jumping in, there's always a new kid on the block to help get into the swing of things. One artist though, is the original new kid on the GigTown block. Ryan Hiller was the very first artist to join the community and hearing that he and Pacific Records chose to premiere his debut single, "Gotta Survive," through GigTown was flattering to say the least. As a community that is about uniting in support of local artists, we're thrilled to feature the track as the new "Song of the Week."
There's no denying the world has been experiencing its fair share of intense difficulties as of late but a good song can make a mountain of difference in getting through less than ideal times.
The spirit written into "Gotta Survive" shows that Hiller has kept his ear well to the ground on these fronts. Running just over the four minute mark, the song's melodic bones hold up a southern rock structure, draped in a mild amount of blues, thanks to a lot of sliding – instrumental and vocal – and one cleverly placed organ part! A heavily plucked guitar, and Hiller's affinity for a loose and swaggering vocal tones give his song a determined-but-never-arrogant vibe, nicely supporting the lyrical theme of persevering and working through challenges. (Well when you're stranded in the middle of a sea full of hate and sin...Well I'm feeling quite alive for the first time / And a second goes by you think that you're gonna die / And there ain't no time to cry / only time to try / and realize you gotta survive.) Drum hits on every other beat solidify the catchiness of the song's hook, and make it easy to fall into the rhythm. When mixed all together, what's left is a work that is easily approached for its sounds but packing a layer of deeper socially provoked thought underneath.
The juxtaposition between Hiller's long time residence in GigTown, and the newly unfolding chapters in his partnership with Pacific Records, makes for quite the appealing story. While it feels like the whole GigTown team knows Hiller really well, it's just as thrilling from this side, to see the developments appearing on the horizon for him, as a rising artist being newly discovered by more people everyday. Following this debut, listeners can catch Hiller live, opening for Brian Setzer on August 6, 2016 as part of the Del Mar Race Track Post Concert Series. Not far behind that, keep an eye out for "Gotta Survive's" music video due early next month and Hiller's full-length album through Pacific Records coming in 2017.
Listen to "Gotta Survive," featured now on GigTown Radio, and check out Ryan Hiller's GigTown artist profile for information on all of his upcoming live shows!