Billy Galewood, the artist formally known as Bushwalla, has been mixing poignant songwriting with comedy, juggling, and overall optimism, into an eccentric live show since the early 2000s. Regarded as one of Los Angeles's finest "jack of all trades" entertainers, Galewood is known for engaging an audience and getting even the most stubborn wallflowers to get down on the dance floor. The artist has been quoted as saying, "My show is like a kids birthday party...for adults."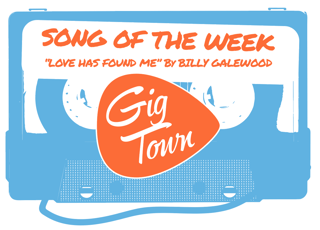 It's hard to pin a genre label on Galewood, especially with a sound that encapsulates elements of rock, jazz, and improvisational-acoustic-rap. The artist's latest track, however, manages to showcase the musical spark and positive message found throughout his prolific career. Here at GigTown, as longtime fans of Galewood, we are honored to premiere that track, "Love Has Found Me", as the next Song of the Week.
Pulling on the heartstrings right from the start, "Love Has Found Me" is an upbeat plea to let love come in. A smooth vocal line from Galewood loops in and out, as the sounds of electronic raindrops splash color onto a driving drum beat. There's a disarming playfulness to the song that leads the listener down a tranquil path, until Galewood the maestro reminds us, through verse, to "Check your perspective of each moment" and to "love what you do".
Galewood may have deep pockets of circus tricks, known by those who have seen him live, but there's no extra flare or filler in "Love Has Found Me." The track is a straightforward, feel-good anthem that mysteriously lifts the spirits while holding a steady tempo.
Now shedding his Bushwalla persona and embarking on new adventures under his own name, we're sure that whatever Galewood has planned next will only elevate his ability to blend music, laughter, and connection for a growing fan base. Zero To Billy, Galewood's new variety show, includes special guests and everything from "Shakespearean rap songs to juggling." Catch that show tomorrow night, July 23, 2016 at Java Jones or, see a performance at the O'side Outside Feeding the Soul Benefit on August 20, 2016.
Listen to "Love Has Found Me," featured now on GigTown Radio, and check out Billy Galewood's GigTown artist profile for information on all of his upcoming live shows!