Those of us that have followed the GigTown movement since the beginning may recognize San Diego's rock-based-acoustic, brother duo, Ottopilot, from one of our very first installments of Radio Roulette. Now, the band is back as our next Song of The Week, with their first release on local label Pacific Records, and new single, "Count On Me".
Brandon Vogt, vocals/guitar/piano, says the song, "[Count On Me] reminds us that everyone needs someone to look up to and someone to lean on. Without trust we have nothing. We all need to count on each other from time to time."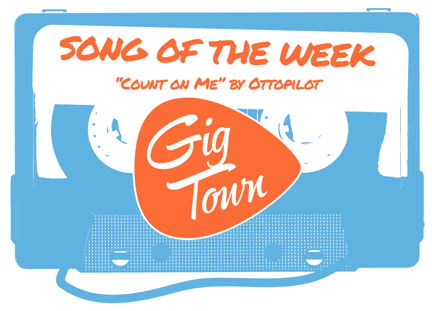 One thing that fans of Ottopilot can count on is their signature mix of smooth, laid-back rhythm, and classic rock n' roll energy. "Count On Me" starts up with some striped down, southern-twanged acoustic guitar but, quickly turns into much more than just a finger-pickin' roll-in-the-hay. The song is complete with Lynyrd Skynyrd-style guitar fills and dynamic vocal melodies. Lyrics like, "And I'll never leave until I'm six feet deep / so you can count on me / and I'll keep on loving you," sees the duo showcasing an endearing edge not quite as commonplace in their discography. When the second entrance of the chorus finally comes around, it's hard not to smile and-or sing along.
Ottopilot formed in 2009 here in San Diego and has garnished attention not only from fans but also from some highly notable, musical peers. They have shared the stage with Gavin DeGraw, Sugar Ray, Earth Wind and Fire, and Huey Lewis and the News.
If "Count On Me" is a small taste of what's coming next from Ottopilot, their fans and the rest of San Diego should start getting excited. The Vogt brothers have successfully blended an ocean breeze of southern style with an undercurrent of good time rock n' roll.
Check out GigTown Radio now, to hear "Count on Me" featured at the top of the playlist, and check out Ottopilot's GigTown artist profile for more info on the band and to stay in-the-know about more upcoming shows!