Since rolling out our Song of the Week movement, we've boasted about amazing GigTown artists all over the U.S. – from Seattle, Portland, Austin, and even Nashville. This week, we're bringing it right back to where it all started for us, America's finest city, San Diego.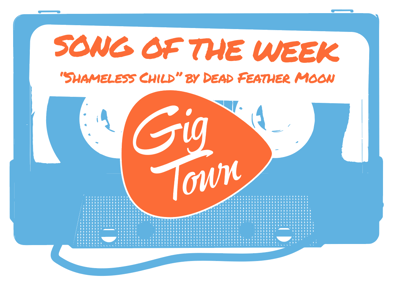 One band that's been a staple of the local music scene since 2008 is none other than our hometown heroes, Dead Feather Moon. Our first Song of the Week of fall is their new single "Shameless Child" off the group's 2016 full-length release, ///// The Finder.
The song starts off with a sultry strut and walking bass line. Lead vocalist Justen Berge's falsetto offers a false sense of relaxation before the sharp and distorted bends of guitar strings scream over the suave groove. Growing walls of sound swell before crashing onto the dark, mellow dance floor provided by piano keys and sneakily placed brass sections. It's difficult not to snap a finger or shake a hip during the track.
The maraca shake is the mainstay in the song and it places an eerie and mischievous feeling into the listener's head. "Freedom to love like a child," sings Berge before echoing, "10, 9, 8, 8, 8." It's a sensual countdown that lights the fuse of the all-out rock bomb waiting in the songs breakdown. The groove is infectious and reminiscent of trance-like footsteps through an after-hours nightclub. Wailing guitar riffs, heavy drum hits, and inherent darkness makes "Shameless Child" one sexy banger.
Prepared to provide listeners with a psychedelic blue mood, laced over straight ahead alt-rock, Dead Feather Moon's latest album, //// The Finder, is just another reason why the quartet is one of San Diego's most sought after musical acts and the timing for this Song of the Week couldn't be better because the band has a show tomorrow, September 27, at local hotspot, Belly Up Tavern, in Solana Beach, CA.
Give a listen to "Shameless Child," now featured on GigTown Radio, and check out Dead Feather Moon's GigTown artist profile for more info on the band and to keep up to date about more upcoming shows!