There's nothing like hearing the sweet summer sounds of San Diego's North County as the ocean water warms and the daylight continues to wrestle time away from the night. The high tides, relaxed moods, and unhurried beaches have long since influenced the area's musical flavor.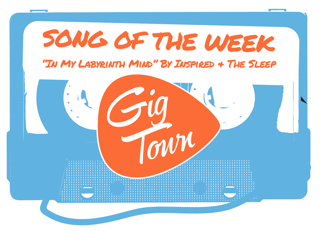 Favorite sons of the North, Inspired and The Sleep, have breathed in the landscape and, in return, offered the city a psychedelic cocktail infused with pop, jazz, and lo-fi that transcends more than just the vibes of an endless summer. It's in the spirit of the season and our love for catchy hooks that we've chosen their song, "In My Labyrinth Mind" as our Song Of The Week.
As the opening track off their latest EP, Eyelid Kid, "In My Labyrinth Mind" comes in like a sonic karate chop. Max Greenhalgh's bass lines bob and weave around an upbeat tempo before the warm embrace of his vocals come in. "Stay if you want to," he swoons invitingly. The other half of the songwriting duo, and Inspired mainstay, is Bryce Outcault, whose multi-instrumental finesse shines through with a kaleidoscope of synth notes and saxophone fills. A series of subtle sound waves layer and pile up by the time the last chorus arrives but, instead of coming off crowded, each section ties into the next and makes one lucid groove. "In My Labyrinth Mind" is a lullaby laced with a playful mischievousness that makes you want to stay up and dream.
Not only keeping busy with self releasing the full length, Teenager and an EP, Eyelid Kid, last year, Inspired and The Sleep have also become regulars at The Belly Up. Furthermore, the band has even garnished kind words from SPIN Magazine. You can catch them next at Sand Diego's Soda Bar on both August 12 and September 17, 2016.
Listen to "In My Labyrinth Mind," featured now on GigTown Radio, and check out Inspired and The Sleep's artist profile for information on all of their upcoming live shows!