It's August already? Where's the summer flying to so fast? Don't panic though – there's still plenty of days left to concert, festival, and roadtrip playlist season and we've got just the track that reminds us there's lots of days left to do "whatever you wanna do."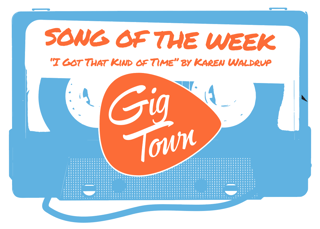 Nashville, Tennessee based country artist, Karen Waldrup, isn't all about the musical road most traveled though, as her southern songwriting brings together sonic flavors of both Music Row and the carefree scene in New Orleans – Waldrup's old stomping grounds and where she originally calls home. Making her way around Nashville as a "triple threat musician, songwriter [and] recording artist," Waldrup moved into GigTown with an ever-growing enthusiasm live performance at the top of her mind it has definitely showed. Someone used to touring day in and out in support of many established artists and traveling across the globe, seeing a continual influx of gigs listed in Waldrup's GigTown artist profile is hardly surprising.
Live performance is at the core of what Waldrup loves to do and one of the things that comes along with the territory of touring is having a million things on the calendar and half as many days in which to do it all. Somehow though, Waldrup makes being pressed for time sound like the last thing on her mind in "I Got That Kind Of Time" and this clever track is the newest pick for "Song of the Week!"
Wasting no time empathizing with everyone who has ever stuggled to make it from another Monday to another Friday (I start hating Monday on a Sunday because I know it's gonna be a drag), despite the initial despondence, there's an immediate lightness to this decidedly carefree track of Waldrup's. Upbeat finger picking by an acoustic guitar, the stretched notes of a plucked Dobro, the clips and clops of various percussive instruments, and a steady but unaggressive thump of a bass guitar give the whole song a sense of bounce, very much in the stlyistic vein of Kacey Musgraves' cuts, "Follow Your Arrow" and "Biscuits."
It doesn't take long for Waldrup to expand the song's sound though, dropping in touches of electrified guitar, more prominent drums, and drawn out, clean tone guitar harmonies that bring in just a touch of surf rock to mind. When thrown all together with a recreation-minded chorus
(Drivin' around, top down / Tiki bar, count the stars / Second row at a show / Wind it up and let it go.) and its titular lyric line, "I got that kind of time to do whatever you wanna do," it's not difficult to find thoughts of coastside travel or beachside lounging coming to mind. "I Got That Kind Of Time" has "summer soundtrack single" written all over it. Furthermore, the activities and opposite "you" Waldrup sings about are just general but still fun enough that best friends and lovers alike can find ways to relate.
Karen Waldrup has been around the country music block and back, aware of the highs and lows that come with both full-time musicianship and the choice to plant roots in a place like Nashville. Still, despite living a community built on and powered by the energy of music, Waldrup keeps her touring boots close by, always keeping her fans in the loop through GigTown.
Give a listen to "I Got That Kind Of Time," now featured on GigTown Radio, and check out Karen Waldrup's GigTown artist profile for info on her touring gigs throughout August and September!