GigTown might be based in the Golden State and have lots of artists that orbit around the west coast but, the vastness of this music community is what makes GigTown so exciting. The artist behind today's new Song of the Week highlights this very point, as not only is she based thousands of miles away from headquarters but both her overall life experiences and the featured track at hand, "So Much Love," is built with elements that extend even beyond the United States.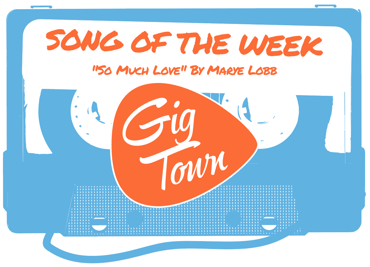 While Marye Lobb's GigTown location places her in New York, NY, the singer-songwriter actually holds her primary roots in the midwest and Rochester, NY. Starting with "New York City singer-songwriter transplant" sounds like an origin story of a dime a dozen but, Lobb's artistry begs a second and more thoughtful look, as her fascination with sounds and art from across the world have served as a primary inspiration throughout her career – not to mention Lobb's individual resonation with Buddhist and Quaker philosophies of living.
"So Much Love," which comes off Lobb's second album titled, Not At War (independent, 2012), cuts right to the chase with two distinctly identifiable qualities from the first few measures: a lone acoustic guitar – the classic singer-songwriter tool of the trade – and lyrics that are not sung in English. This pairing immediately lets the common aspect of the song slide by, in favor of the intrigue provided by a song sung partially in Portuguese. Musically, "So Much Love" isn't waiting to jump out at anyone. The calmness in dynamics and simplicity in arrangement (vocal, guitar, cello) never waivers throughout the roughly four minute track. Similarly, the song structure of verse, chorus, verse, chorus, keeps consistent as well.
Given this choice of setup, it is obvious where "So Much Love" shines and that is in Lobb's sincere, vocally nuanced, performance. Her voice is direct but gentle in delivery. Foreign language aside, no words are left difficult to understand from lack of enunciation. The titular phrase, which is only part of the main refrain (There could be so much love, there could be so much love), rings out many times over, along with a few other repeated phrases, making "So Much Love" feel almost hymnal in character. Lobb's own disclosure of what Not At War symbolizes for her, ("I am "NOT AT WAR" with myself anymore...I hope this album helps you to find "home" inside yourself – wherever you may be.") adds to the mentality of quiet nurturing formed from all these factors when put together.
Those in and around New York's five boroughs can experience Lobb's emotive performance firsthand at her upcoming gig this Saturday, October 29, 2016, at Brooklyn's Branded Saloon.
Give a listen to "So Much Love" now featured at the top of GigTown Radio, and check out Marye Lobb's GigTown artist profile for more info on the band and to stay up to date with more upcoming shows!