Happy Halloween GigTowners! Before everyone gets set to flip over to the next month on the calendar, there's one more Song of the Week left to October. While it's not out to scare, the music made by Houston, Texas artist, Paulina Sjoberg – especially her newest single, "World" – is definitely scary good! (Find her in the "Austin" section of the app.) Just released to the masses this past New Music Friday, "World" might not be a Halloween themed track but by the end of the tune, the song almost seems like it's wearing a disguise.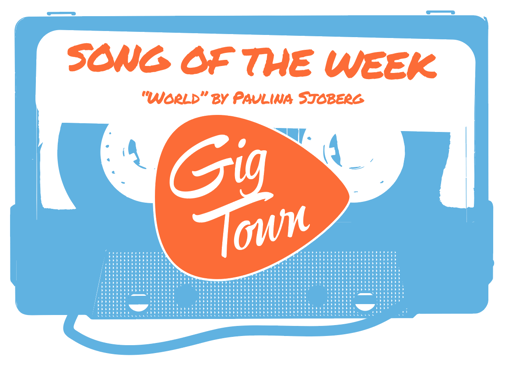 Sjoberg, who is but a mere 20 years of age, is a singer-songwriter and "World" is a song that heavily utilizes the acoustic guitar. This is a pairing as standard as they come. However, beyond basic correlations from these two identifiers, there is nearly nothing else standard about the young Texan's new composition. In fact, though Sjoberg is a Texan, one wouldn't necessarily be inclined to think that at first note, as her voice rings with a very interest piquing character that feels at once a little Halsey and a little classic Ellie Goulding – vocal flavors of the latter shining through in the way Sjoberg sings the "oh" filled choruses in "World." Sjoberg herself references Ed Sheeran and Dolores O'Riordan in terms of how others can relate to her voice but regardless of what individuals are thought up to compare, Sjoberg's voice is ultimately memorable and multi-faceted.

All this is mind, influences still make for an interesting point of discussion withing "World." The disguise of sorts mentioned above kicks in pretty soon after the first verse, when a clear and smoothly played violin part appears during the chorus. Suddenly, the song isn't just average singer-songwriter fare but along with some percussive support from bongos, "World" takes on a definitively indie folk color. Add in some rapid, syncopated rhythms and verses that become steadily filled with more lyrics and everything culminates in a lengthy final verse that crosses into nimbly articulated rap territory. Makes a conclusion drawn from hearing that lone acoustic guitar feel pretty silly now, doesn't it?

I'm here to break free
Nothing will stop me
I'm chasing, I'm racing, yes I'm a little bit crazy
But trust me I'm not lazy
I'm here to represent
You know I'm not lucky I'm blessed and I don't believe
in coincidence


The only other facet of "World" that adds a notable dimension to Sjoberg's stylistic blending is her repeated referencing of Jesus Christ (But someday I'll expose this world's lies / So help me Jesus Christ") There's an undeniable sense of personal and inner empowerment tied to "World's" lyrics so tying in a directly religious reference doesn't feel entirely out of place but one perhaps wonders, despite Sjoberg's very candid level of disclosure in her writing, why she chose to include mention of Christ and it makes a person want to know more about her artistic and spiritual thought processes. Ultimately, "World" presents in one presumably very easy to identify way – like a quaint little box. Yet, once its opened and played, what's inside reveals a potpourri of elements that make the song feel like a small world all its own.
Give a listen to "World" currently featured at the top of GigTown Radio, and check out Paulina Sjoberg's GigTown artist profile for more info on her music (as well as a soon-to-be-released music video for "World") and to stay up to date with more upcoming shows!