A new series: Featured artist Friday
Who knows music better than other musicians? In the spirit of connecting the music community, we are starting a new thing this week. A new blog series posted every Friday, where a musician will write about another musician they found on GigTown Radio. If you are a GigTown Artist that has writing experience, and wants to join the content team at GigTown, here's some info on how to get involved.
Featured Artist: Raf Deza and the Avenue
By Heather Nation
Pedal steel guitar at the forefront of the mix, a full bodied band brings soft spoken, drawn out ambiance to alternative country. In their song Familiar Ghosts the intro takes it's time, each instrument coming in separately to accompany the lead vocal, giving the lyrics the space they demand to draw your attention into the moment. Every texture sits just right in the mix; the kick drum like a heavy heartbeat, the pedal steel like a warm blanket covering the song with texture, pretty little vocal harmonies, and not to mention an acoustic guitar solo at1:17 that wastes no time in setting the mood just right where it needs to be.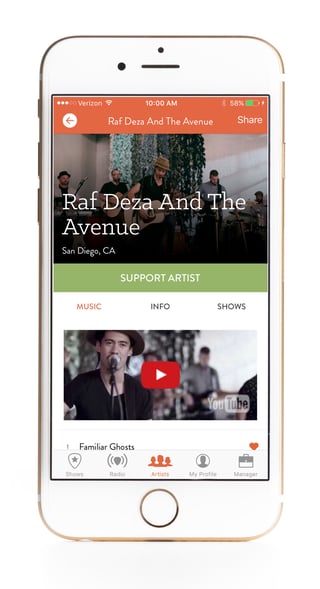 What Raf Deza achieves with songs is the feeling that heartache can be just as uplifting as it can be sorrowful. A lyric from the first verse sings 'and you don't know how hard it's been / to find strength to fight through the waiting / and oh, the weight of it / but how could you even / you never know' to call out in familiarity to a love lost, telling them about the growth and the light at the end of the tunnel through the bitter loss. Either way you spin the meaning, the lyrics in combination with the delicate delivery really stick with the listener. The few tracks this group has released only begs the question, when can i buy the full length album?