Beaches, sunshine, cold drinks, late night bonfires, starlight, long drives: What's missing from this list that could easily contain everything here and more? Look no further than the title of the new Song of the Week: "West Coast" by MAYVE.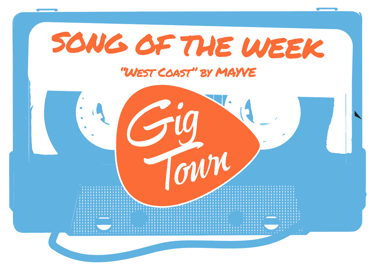 New York might be a ways away from GigTown's home base of San Diego but there's just as much support for the idea of local music communities in the Empire State and MAYVE have been a part of the steadily growing east coast GigTown movement for quite some time. A band from Long Island, that place so close to, yet not actually New York City, the indie pop quintet know just what it means to be part of a vibrant but sometimes underestimated scene. Forget whatever preconceived, dark horse notions might be floating by with the mention of the island in New York's shadow though because "West Coast" will sink them right to the bottom of the Long Island Sound.
First off, the recording and production work on this song – not to mention the entire EP, Animals, from where it comes – is a "stop people in their tracks" kind of way. It might be 2016 and DIY work might be fairly common but a well made independent recording never fails to make a great first impression. Everything is clear, and shrewdly balanced in the mix. A stabilizing beat set by a syncopated snare and kick from the start are given a good amount of snap and defined punctuation and are given enough isolation to stay a constant pulse underneath, creating a fun contrast with the melodic instrumentation.
Dominated with synthesizers of various tonal characters – from short dial tone-esque beeps to longer held lazer-like key tones that are reminiscent of Jack's Mannequin and Owl City – "West Coast" provides a preview of it's multi-layered apex in the introductory hook, proceeding to pull back to highlight lead vocalist, Nick Micheline as he sings of being stuck in a rut, to be solved by a "move out to the west coast." The song's lyrics don't actually make much reference to the aforementioned elements of classic summer vacation but the lack of lyrical blatancy is counter balanced by the rapid, rippling movement in nearly every instrumental part of the band. Short, repeated, step-wise note flourishes travel from part to part, giving "West Coast" a sense of both shine and sparkle, which, provided a little free association, lead right to thoughts of shimmering ocean coastlines, summer meteor showers, and bright summer days.
What caps "West Coast's" arrangement off best though, isn't the dynamic melodies. It's the small but crucial detail of their decision to retain some organic sound with background claps added to the second half of the track. MAYVE's sound is profusely electronic and hardly anyone would be surprised if the band did, but there's something to be said for a band that actually doesn't opt for digital effects at every available turn. Look for MAYVE at their next show on August 27, 2016 at The Leif in Brooklyn!
Give a listen to "West Coast," now featured on GigTown Radio, and check out MAYVE's GigTown artist profile for more info on the band and to stay in the loop with more upcoming shows!