Typically, the average superstitious person might see or think of crows and what comes to mind? Perhaps thoughts of ominous occurrences, possible bad luck, or even a bad omen for the future. (What else could be expected of an animal whose grouping is referred to as a "murder?")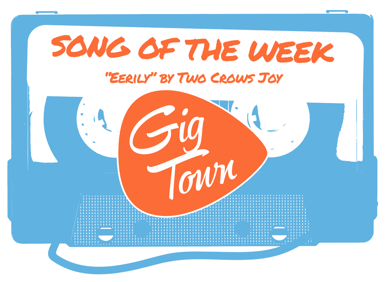 That being said, it might seem slightly contradictory to find a band with a name that combines a symbol of slight misfortune with the thought of joy. However, Portland Oregon's Two Crows Joy does just that and despite their chosen animal namesake, those who listen to their music are much more likely to come away with good feelings rather than unease. It's with this interesting contradiction in mind that "Eerily," off Two Crows Joy's debut full length album, Hope & Truth & Dare (via One Song Records), becomes our newest Song of the Week!
Russell James Hosley and Jane Lee Dunkin make up the band of Two Crows Joy and their sound as a whole is easily placed in the hemisphere of Americana. Armed with the likes of acoustic guitar and a fiddle electrified just enough to put some additional weight behind the tone, "Eerily" is simple enough in songwriting format to learn and remember but its straightforward verses and somewhat stripped down arrangement is refreshing. The song's minor key-titled vocal melody and instrumental backing motif gently play to the band's other affinity for a Celtic aesthetic – especially with the intermittent moments of Dunkin's prominent fiddle passages. Hosley's vocal style overall, but especially prominent on this track, exudes a style and tonal character similar to that of Charlie Lowell from Christian alternative rock group, Jars of Clay, circa 1995's "Flood." Whether a conscious effort or just something of natural coincidence, this association only further adds to a mentality of symbolic metaphors (I stumbled forth whence came the sound / and the light went out as I hit the ground / and I fell... into a dream).
Breaking away from some of the more uptempo and compositionally conventional Americana rock style tracks on Hope & Truth & Dare, "Eerily" works perfectly as a sonic change of pace midway through the 12 track album and gives Hosley a chance to really display his vocal control – something that feels like it can very effortlessly be translated from a recorded listening experience to a live setting without coming across as forced. And for those now looking to scope out Two Crows Joy in their live element, Hosley and Dunkin will be performing at the Cannon Beach Farmers Market in Cannon Beach, OR, on September 27, 2016.
Give a listen to "Eerily," featured this week at the top of GigTown Radio, and check out Two Crows Joy's artist profile for more info on the band and to stay in the know about more upcoming shows!