The transition to fall now just around the corner, it's time for us here at GigTown to turn the record over on our summer soundtracks and let our moods change colors with the leaves. Summoning the sounds of autumn no like other, and one of our favorite GigTown bands right now, is Seattle, Washington's Greet The Sea. The quartet (Brett Shelton-Vox / Guitar, Nik Pfeifer-Guitar, Ross Powell-Bass, Ryan Mulligan-Drums) ‍has been busy performing across the Pacific Northwest and steadily growing a fan base with their brand of post-rock sincerity since the release of their 2015 self-titled debut album. Their track, "Take Shelter", is our Song of the Week.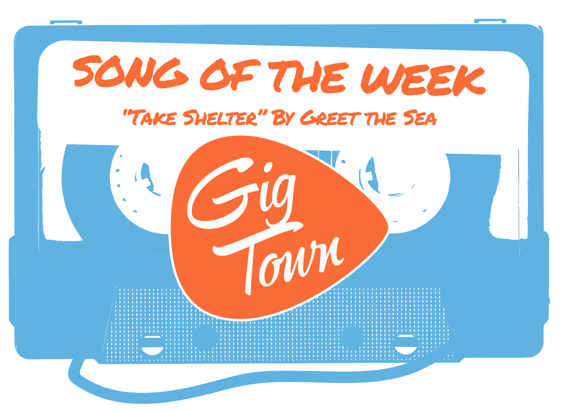 Beginning with rolling floor toms and dizzying guitar riffs, "Take Shelter" sets the mood of late night star gazing. Listeners can hear the bands Seattle roots sneak through from the get-go – hearing the track in sunny San Diego still conjures up the smell of pine trees and images of a foggy lake. "But the nights are dark and cold / And the lights fade undisclosed," sings frontman Brett Shelton, with an emotional crescendo á la Death Cab for Cutie's Transatlanticism.
The instrumentals score lyrical scenes throughout the track – "But the light has faded alone / While the night is all I long for." Softness ripples during the verses before distortion and crash cymbals avalanche over the chorus, yet the band manages to keep their calm just as important as their storm. Unlike many of their peers, Greet The Sea's smoothness doesn't exist solely to emphasize their edge. Each section of instrumentals crack light into a canvas of melancholy that's felt throughout the impressive debut album. Press play on a late night walk and you'll feel the romanticism of lonely star gazers making music with a refreshing sense of mystery.
Those in the Everett, Washington area who are intrigued and want to delve into the mystery behind these up and coming north westerners are in luck! You can go check out Greet The Sea at Anchor Pub on September 24, 2016.
Give a listen to "Take Shelter," now featured on GigTown Radio, and check out Greet The Sea's GigTown artist profile for more info on the band and to stay in the loop with more upcoming shows!