Brandish a name like The Sickstring Outlaws and any casual listener or intrigued passers-by are bound to be more than just a bit curious. Sure, mention of strings and outlaws in a band name gives way to thoughts of country and some level of toughness but, sometimes it can be difficult to gage just how the ratio of those two things is going to balance out from one band to the next.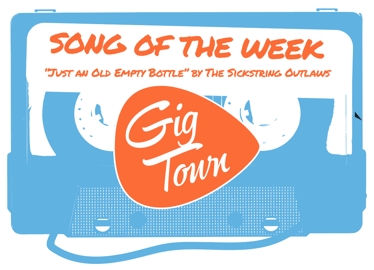 Well, although the San Diego quintet's introductory description of "outlaw country band" comes across as mostly explanatory, cue up "Just An Old Empty Bottle" – the newest Song of the Week – and it becomes clear the men of this southern rocking group don't want to make it too easy, or too quick, for people to figure out just where they fall on the scale of approachable and badass music.
Track two off the band's third full length album, Electric Moonshine, released independently in 2015, "Just An Old Empty Bottle" gets right to filling the string quota of Sickstring's name. A combination of drums, electric guitar, but most notably, smoothly picked banjo, drop in right from the first few seconds of the song's introduction. That instrument list alone lends all kinds of range in possibility with regard to range of how rock or how country the group could go. Though a history of opening for bands like The Meat Puppets and Soul Asylum might lean presumptions toward a more edgy – even brash – conclusion, Sickstring Outlaws actually feel much more in tune with an upbeat, festival-fueled sing-a-long vibe, than anything racy – lyrically or melodically speaking – like an outlaw.
Lead singer Ron Houston takes change on the verse vocals, with backing vocals jumping in during the latter half of verse lines, in somewhat of a call and response style fashion. (Just an old empty bottle / it's staring back at me / We used to be such good old friends / 'Til that payback in '63). The tempo is lively but not anything runaway fast – think The Black Crowes or The Charlie Daniels Band, before Daniels gets going on a fiddle solo.
The harmonica solo that appears between verses two and three is a refreshing touch and great tonal contrast to Houston's deeper, mildly twang-laden voice, bringing to mind the chops of many a Blues Traveler harmonica break. The little off-the-cuff remarks spoken by Houston at the ends of lines, ("Aw, come on, join me now," "Hell no! Come on!") solidify the invitational impression given by Sickstring Outlaws and make it clear for anyone who is listening to and experiencing their sound for the first time, that this is one rebellious group with room for both the country family and the solo rockers alike.
Those looking for a live experience to follow up streaming the Song of the Week can find Sickstring Outlaws at De Oro Mine Co. (a GigTown highlighted venue), in Spring Valley, CA, on September 9, 2016.
Have a listen to "Just An Old Empty Bottle," now featured on GigTown Radio, and check out Sickstring Outlaws' GigTown artist profile for more info on the band and to stay up to date with info on upcoming shows!