Most of us can agree that the Austin, Texas music scene is one of the best in the country. Countless artists, SXSW, and an overall melting pot of music and art – the city has no shortage of entertainment. We at GigTown are honored that the city has welcomed us with open arms and supported the growing list of Austin-based GigTown artists, especially in lieu of everything that Austin has to offer.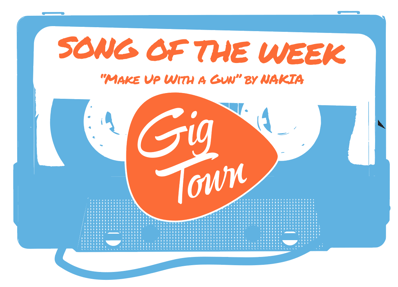 One artist in particular, is a man called Nakia, whom, in 2002 – after rocking and rolling all over this fair country – headed down to the "Lone Star State." Once there, he unleashed his Chicago blues, Alabama soul, and larger-than-life voice upon the city of Austin. Nakia's song, "Make Up With A Gun," off 2013's EP, Drown In The Crimson Tide, isn't just a riptide of soulful swagger, it's our Song of the Week.
The song is a shakedown. Its tempo evokes a menacing stagger down an alleyway while the hook creeps around the corner of a rhythm and blues upswing. "I've been hurting baby, I drink that gasoline," Nakia confesses on the opening line. His voice is folkloric and evangelical.
He sings a soulful tale of a man down on his luck – "What I lack in common sense I make up with a gun." A harmonica weeps and howls in-between Nakia's verses, only to fan the flame of his goose-bump infused crooning. The jangling of chains combined with out-of-focus snare hits and paint a vivid picture of a man chasing the night.
Read Nakia's biography and it becomes rather obvious that the man has many experiences and influences from which to draw his charm but one of the secrets to his success has been to keep moving forward, both geographically and musically.
In regards to being born in Alabama and growing up in the south, Nakia explains,
"When you grow up in that area of the world, it is really easy to get drawn into your surroundings and your environment… If you're not careful, you'll get sucked into that tide and you'll drown. My aunt told me if I ever got a chance to leave, I should. She also said that one of the hardest things in life to do is to change your lot."
The last line on "Make Up With A Gun" has the anti-hero singing, "Inside of every shadow is a beautiful surprise." We're just happy that Nakia has joined the GigTown family and we can't wait for his next set of beautiful surprises.
Give a listen to "Make Up With A Gun," now featured on GigTown Radio, and check out Nakia's GigTown artist profile for more info on the band and to stay in the loop with more upcoming shows!