This new Song of the Week shows just how much we love a high energy, summer anthem here at GigTown headquarters. Unlike other pop fantasies born and bred by the sea, Nashville, Tennessee's Judah & The Lion offer a southern foot-stomper with "Take It All Back." Mixing country style finger-picking, hip-hop beats, and a roundhouse kick of rock n' roll, "Take It All Back" is a front porch jam session that has fans all the way from Nashville, out here to San Diego, singing along.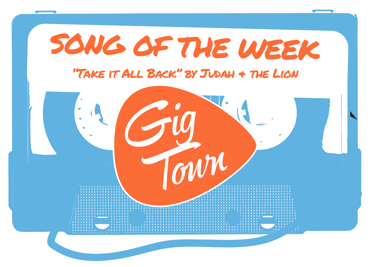 Upbeat and downright catchy, "Take It All Back," which is off the group's fourth album, Folk Hop and Roll, becomes a sing-a-long even before the first chorus finishes. Frontman, Judah Akers, flashes a melodic rap swagger from the get-go, while the band gasses up a banjo and mandolin (yes, they have a banjo AND a mandolin). A carousel of southern twang revolves around Akers as he chants, "And I'd take it all back just to have you." Mandolin player, Brian Macdonald plucks out a double-timed square dance on strings as Akers sings with such remorseful optimism.
The music picks up from foot-stomping – to full on twists and shouts – at the halfway point, as more picking, grinning, and hip-hop prowess come full circle. Each instrument puts a different color brick in the wall, yet it's the sum of its parts that keeps the wall tall, loud, and engaging.
Akers gives us a hint into how he feels about sharing his music on the first verse, "Hey, my life is real great / feel I'm well on my way to my dreams coming true and I'm getting to do with you / and it feels so nice when the people sing along."
Watching smiling faces chant lyrics back towards the stage is what independent bands like Judah & The Lion live for. The quartet used non-stop touring as the number one approach for growing their audience, playing over 150 shows in 2015 – everywhere from Tennessee to Scandinavia.
The band has also done their best to bottle the raw energy of live performances and pump it back into every recording. Akers speaks of the new record, live shows, and life in the band, saying, "We throw an absolute rage. And all the songs were made with that in mind. They're fun, carefree, and youthful, and we live our lives that way, too."
Judah & The Lion have mixed the genres and laid down the bricks of multiple influences, building themselves a solid fan base and a powerhouse discography.
Give a listen to "Take It All Back," now featured on GigTown Radio, and check out Judah & The Lion's GigTown artist profile for more info on the band and to stay in the loop with more upcoming shows!