Seven days and a new spin later, I'm back to spotlight another song by a GigTown artist! This group might be called Late Friday but they're just in time to get some Radio Roulette cheer!
Now Playing:
"1800 Days" (from self-titled single, released independently, October, 2015)
No, neither bit of information in the "Now Playing" section is meant as an obscure time stamp for the calendar. Late Friday is an energetic five piece band from the Houston area town of Cypress, Texas and "1800 Days" is one of their newest singles. The band came to life in 2012 and currently run with London Johnson (Vocals), Brandon Johnson (Guitar), Josh Tees (Guitar), Jeremy Williams (Bass), and Zach Couger (Drums). A vibrant four minute escapade, "1800 Days" is one of those cuts that leaves no confusion about the kind of group one is getting to know.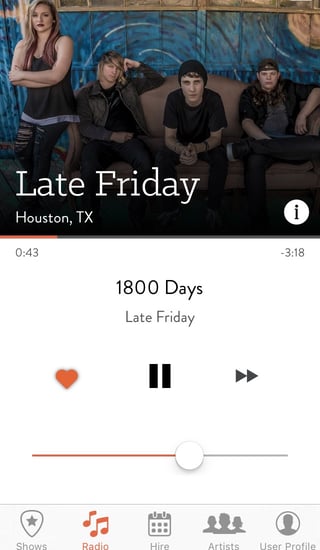 Late Friday looks at its existence as one that is out to "[bring] us the next generation of rock music" and though a somewhat open ended statement, it's definitely not without merit. The south based quintet is all force and fire; blending metallic, echoing lead guitars with a clean but assertive vocal from front woman London Johnson. There's another layer of contrast happening throughout the track as well: Fast, consistent pulsing in the instrumental support that swells and recedes throughout the verses and choruses to give Johnson's less fervent, more legato singing highlight and breathing room before exploding in an riff-heavy refrain. Tone, tempo, and centrality complement rather than clash on both fronts. The duality makes for a great foundation and imminent catchiness.
Interestingly enough, what is also striking about "1800 Days" is its similarity to another pop punk group from down south: Paramore. The originally five piece Franklin band has changed plenty over the course of its still active 11 year life but, between the arrangements and the song structures, it's not too hard to hear influence in "1800 Days" from the years of All We Know is Falling and Riot!. (On a non-musical side note: Looking at Last Friday's lineup and seeing three of five names also formerly Paramore might have been a subconscious factor.)
Lyrically, the conflict of "1800 Days" is most likely familiar fare for anyone who's ever been in a relationship surrounded by naysayers, a long distance relationship, or possibly both at the same time (I see the good inside of you / I wish they could see it too / But there's something holding them back / They don't understand why we feel so different / They don't know what it's like). On the one hand it's apt to be widely relatable but on the other, conveying emotional difficulties through more vague sentiments rather than personal, cuts away room for a deeper connection with the listener. Specificity might seem like the enemy of relatable music but if there's an "art imitates life" connection to be made between a fan and a lyric, listeners will find and make it, no matter how individually the song may be tailored in a band's references.
Parallels or not aside, Late Friday have a well assembled, edgy track on their hands and that edge is only accentuated thanks to the attentive ear of Dale Penner. The producer/mix engineer has worked with the likes of Joey Santiago (Pixies) and k.d. lang and the audible precision in Last Friday's music comes through with ease.
---
"1800 Days" is a self-contained single track and is available for purchase through Late Friday's official website and through iTunes!

Read up more on Late Friday and listen for "1800 Days" spinning on GigTown Radio! If you enjoy what your hear, be sure to search out Late Friday in GigTown to book the band for a gig and or catch their next show!