Sometimes the beginnings of the work week can feel like one weighty, crinkled up, mess and it might be not until almost Friday when things seem to settle. Well this week's Radio Roulette tune, from Nashville songstress, Amber Rubarth, ought to help bring some extra peace and order, sooner rather than later, to your day.
Now Playing:
"In The Creases" (from New Green Lines, released independently Dec. 2008)
Amber Rubarth might be a relatively new resident to the GigTown community but this originally west coast composer, is no stranger to cutting records or cutting deeply into the feelings of others through her poetic and often very straightforward songs. Releasing music since 2005, Rubarth's projects embody the accomplishments of a determined musician, as each of these works has been a labor of independent capacity.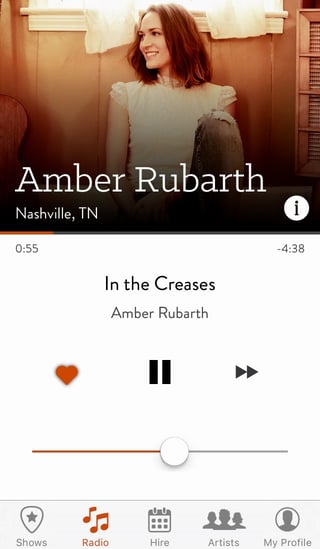 Somewhat waist deep into her still very active career, Rubarth released New Green Lines and with it came "In The Creases." Like much of Rubarth's other material, this nearly five minute single is a gentle but fearless track. It's held up by minimal stilts – a delicate acoustic guitar and a cello alone. The latter serves as the primary melodic greeter and continues on beside Rubarth's untouched vocal like a supportive, accentuating, duet partner. The instrumental minimalism of the song pairs sensibly with the decision to be sonically honest. A lot of silence between words, bow strokes, and cautious chord picking leaves room for sounds like finger slides, vibrations of the guitar's wood, and the smallest and quickest of breaths. Listeners can feel like they are hearing Rubarth in the realest of senses – not needing to try and imagine what differences might comes through in a live setting as opposed to a studio.
Where "In The Creases" lets itself also stand tall is in Rubarth's lyrics. This is a song that's meant to be heard and taken in like a poem recited at a podium in a focused room. Though the rhyme scheme stays uncomplicated, the song is loaded with metaphors that are setup through described scenes rather than just qualities and each is more innocent and relatable than the last:
You're the smell of the toast that you made in the mornings.
You're the page in my book that I keep to myself.
You're the unlocking sound when I turn my door key.
You're the scar that I have from the time that I fell.
Many artists and bands can find themselves struggling to balance approachable character in their songs with elements of confidence and an air of – occasionally difficult to describe – refreshment. Seeing as Rubarth is nearly eight albums into this ongoing process and what she exudes hasn't changed in tenuous extremity, "In The Creases" is a solid slice of the musical oasis Rubarth has built for herself over the years, that clearly continues to be sought out and appreciated.
---
"In The Creases" was originally released on Rubarth's full length album, New Green Light but is also available as part of a sampler on her Bandcamp page.

Find out more about Amber Rubarth through her official website and keep an eye out for "In The Creases" in GigTown Radio's music queue! If you like the sounds that spin, be sure to look up Amber Rubarth in GigTown to book her for a gig and or catch her next show!