Here we are again to give GigTown's radio a fresh and unpredictable spin! This week, we've come aross Los Angeles based, Triptides, the next group to take to the roulette spotlight!


Now Playing:
Triptides
"Colors" (from Colors EP, released via Jaunt Records, April 2014)


Though it's been just about two years since Los Angeles quartet Triptides, (Glenn Brigman (guitar, vocals), Josh Menashe (guitar, vocals), Bryant Fox (bass) and Brian Dove (drums),) released the extended play featuring today's roulette track, the timing of the song's vibe couldn't be any more perfect or, frankly, ageless. We're approaching warmer months, longer days, and hours of sunshine – all ideal conditions for long walks or just lazing in the grass to daydream.
The latter over the former might be just what one is inclined to do while listening to a track like "Colors." This song is just about the absolute epitome of what self-described "sun warped" Triptides present themselves as, on the whole. The track is surfy, dreamy, and psychedelia-laden from beginning to end of its nearly four minute length. The introductory lead guitar has a solid jangle to its tone, while additional guitar parts layer on a wider, more wah-type effect, then followed by a guitar even doused with a coating of phaser effect.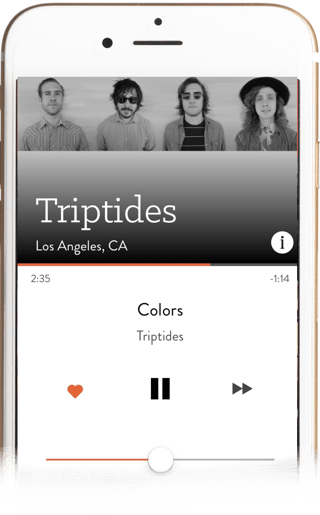 Glenn Brigman and Josh Menashe, both of whom are listed as providing said guitar parts in the band, also both provide the vocals. Immediately when the pair's reverb cranked singing kicks in on top of the already very character-loaded instrumental parts, to not at least momentarily think of late-career, psychedelia style Beatles becomes a virtual impossibility. The lyrics themselves get understandably somewhat washed underneath all the warping, long fading tones, and pulsing bass line. The start and end of lines heavy with imagery might catch the listener's ear (flowers in her eyes...) but for the most part, complete phrases are not hammered into the song with severe demand.
Rather, "Colors," comes across as much more of an experiential track. It's difficult to pinpoint exactly where one sound begins and another fades and it becomes easy to liken the song to something of a watercolor painting or another concept centered around blending and undefined structure. Truly, Triptides have put themselves on paper ("A fuzz warped haze suddenly gives way to a dream sequence soundtrack.") just as how they sound through speakers. The transition from reading the group's bio to hearing this song might be entirely straightforward but, that does not mean the band is at all stale or boring to any degree. No, instead, what listeners get is a dependable and pleasant sound that leaves itself uncomplicated so as not to disrupt whatever kind of mellow time a person is having with Triptides as their chosen soundtrack.
"Colors" is found on Triptides' latest release, Colors EP, which can be picked up now through iTunes and Bandcamp

Listen for "Colors" on GigTown Radio and search out Triptides on GigTown to catch (or book) the band's next show!