Ready for another recommendation, courtesy of the Radio Roulette? This week we've landed upon a track by Mother Falcon and this one packs quite a wallop!


Now Playing:
"Dirty Summer" (from You Knew, released via Creme Fraiche, May 2013)


The decision to title a track as "Dirty Summer" brings with it some clear potential for implication or inference of a more explicit narrative. However, this song by Austin, Texas based mega group, Mother Falcon, starts out imparting the idea of a high level marching band or symphonic collective rather than some risque party anthem for the beach, as one might presume in the age of beat-driven, lyrically minimal, hook loaded, club tracks.

The current lineup of the gargantuan "chamber-rock band," as NPR Music so succinctly referred to Mother Falcon in their 2013 Tiny Desk Concert feature, is quite large at its present 15 player roster – boasting a size that is in fact bigger than some chamber ensembles. Additionally it applies instrumentation that extends beyond the fundamental structure of any typical group of a similar nature, with core instruments like bouzouki, tenor saxophone, and pedal steel. Such an unlikely foundation is most likely why the group mentions "awkward and uncomfortable squirming" in the genre description box on their official Facebook page.

Still in all, Mother Falcon's sound in "Dirty Summer" doesn't go an entirely foreign or sonically abstract route with its musical presentation. Though the lyrics do eventually step into more emotive territory, apt to encourage visualization, despite their lighthearted delivery (Your lips are thin but mine are open / I see between your teeth the skin / of seasons too dry, you eat them and fly / you're mine, you're mine, you're mine). The spritely woodwind and percussion-heavy introduction are what give that "classic marching band" feel; the initial instrumental hook bouncing along in a way that one could picture the players stepping in time to their performance. The track keeps with this character throughout as – even when the more flowing and less tersely sung lyric vocals enter just below the minute mark – a galloping rhythm remains in the percussion underneath.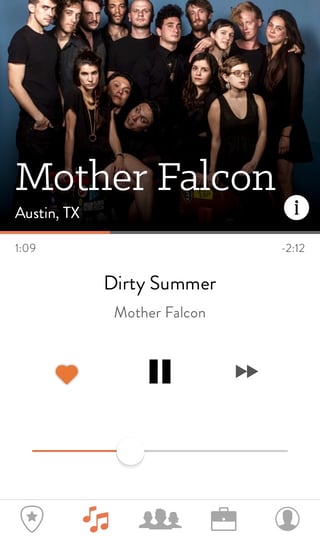 It's a playful track that highlights the variety of sounds and instrumental timbres in a somewhat complex way. Everything comes across like a busily moving highway full of vehicles going to and fro but never losing momentum despite the impression of crowded space. One can choose to take in the song in its whole picture form or hone in on a single part and follow it along like an individual track in a multi-path maze. Compositionally, much applause is deserved for Mother Falcon's application of less mainstream chord progressions, arrangements, and voicings, though their ability to approach songwriting in this way is hardly surprising given the collective training, experience, education, and musical proficiency of the group.

What is slightly surprising is what one might believe to be something easily referenced in conversations about contemporary chamber rock bands, and that is a quick mental leap to Mother Falcon's stylistic peers to the north, yMusic. While not working with as large a lineup, the latter ensemble came together in the same year (2008) but miles away in the heart of Brooklyn, NY. Such a note is hardly meant to create a direct comparison so much as it's to point out that perhaps there is something to the use of traditional instruments in the non-traditional contemporary music business and groups like Mother Falcon less anomaly than they might appear.
"Dirty Summer" is found on Mother Falcon's album You Knew. Copies of the album are available now through iTunes, Google Play, Bandcamp, and Amazon.
Listen for "Dirty Summer" on GigTown Radio and look up Mother Falcon on GigTown to book the band and or catch their next show!