The sun is shining, the birds are chirping and this week's Radio Roulette is raring to go! This time around we've landed on a song by Phasers On Kill but, don't worry, it's all about the fun of music here at GigTown!
Now Playing:
"Staycation" (from Write Home (EP), released independently, November, 2012)
Phasers On Kill. There's something off about this band name. What is it? Oh, right, it's the fact that one would expect it to be "Phasers Set To Kill."
Joking and idiosyncratic semantics aside, Phasers On Kill actually play with a bit of misdirection. Regardless of the verb and preposition choices in their band name, this four man group from Tacoma, WA makes music that would hardly be considered aggressive enough to warrant association with killing. In fact, the band's singularly-phrased, self-described niche is that of melodic punk. "Staycation" is a track that easily reflects this quick summation of the band and at a speedy 2:47 minutes in length, the song is right smack in the middle of the classic, uptempo, punk time bracket.
Musically speaking, "Staycation" doesn't waste a single second on bars of any instrumental hook. Instead, the song dives right in – vocals and instrumentals altogether at once. The rapid and consistent movement of the rhythm and lead guitars (Chris-guitar/vocals, Mikey-guitar/vocals) serves as much of a rudder-like role for the track as the bass does (Stump-bass), with most of tonal movement coming from the vocals. When heard together, the song gives off a strong songwriting aesthetic that fans of Green Day ("Basket Case"), Blink 182 ("All The Small Things"), and The Ramones ("I Wanna Be Sedated") will surely be latching onto in a flash.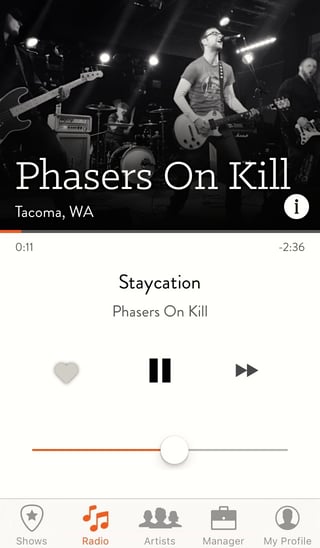 These three bands' styles in mind, Phasers On Kill have definitely honed in on a form of songwriting that has an established fan base – one that hears that particular flow of fast but singable guitar and jumps at the chance for a familiar kind of ear worm: the kind that sees teenage garage bands feeling confident on their local open mic stage and playing with all the energy in the world and the kind that hears chorus kids secretly harmonizing on the third interval above the melody. (Everyone who knows Blink 182 knows someone who did that – if not having done it themselves.) "Staycation" doesn't break the wheel. No, what it does is rides down the road with a carefree grin and a cranked amplifier in tow.

The lyrics are uncomplicated (Everybody's gone away / well I say / we staycation...Don't talk to me / I said I got no / obligation), verses short, and effects minimal but, that doesn't make it a poor piece of work. The song is upbeat, fun and well recorded. A perfect track to blast during a backyard BBQ, day at the beach or around an eventual summer bonfire. What do all these situations have in common? These kinds of scenarios see people surrounded by other people and having a good time interacting with each other – not exactly the time for a song that might require a dictionary to decipher and enjoy. All this said, there are definitely subtle, extra percussion parts, and intermittent harmonizing guitars that don't go unnoticed. That and finishing with the decision to modulate (change key) up a half step in the last verse is the perfect choice to wrap up "Staycation." It's a great little last moment, melodic surprise.
"Staycation" is track four on the band's 2012 EP, Write Home. Copies of the album are available now through iTunes and on Bandcamp.
Keep a listen out for "Staycation" through GigTown Radio and find Phasers On Kill in GigTown to book the band and or catch their next show!