Featured Artist | Lee Coulter
Submitted by Lindsay White
I've been thinking a lot about Lee Coulter. I realize that's a super creepy introductory sentence,
but I'm just going to stick with it.
I go way back with Lee, as our respective journeys in the San Diego music scene have
progressed in parallel-ish lanes (thanks to Listen Local Radio's Cathryn Beeks, who in some way
or another is responsible for introducing me to every San Diego musician I know). My
relationship with Lee primarily exists at shows when we're sharing a bill, or on Facebook when
we take turns "liking" each other's posts. A couple weeks ago, however, we actually had the
chance to spend time together at a friend's party. (In person, for fun. Remember when we used
to do that a lot with other humans?) We swapped songs and stories, and to make a sob story
short, I realized that we have a ton in common as far as familial setbacks go. Listening to Lee's
experiences as well as the songs he's written to cope with those experiences in a positive way
made for a beautiful evening.
As a songwriter, you can approach the whole "when life hands you lemons" situation in a
number of ways. I tend to wring them out until I have a sour little song about my brokenlittle
heart. Lee, on the other hand, adds some sugar then invites you to drink some refreshing AF
lemonade with him. "Look at all this disgusting pulp I have to swallow!" I whine to my audience.
"What a yummy, delicious zest!" he proclaims to his.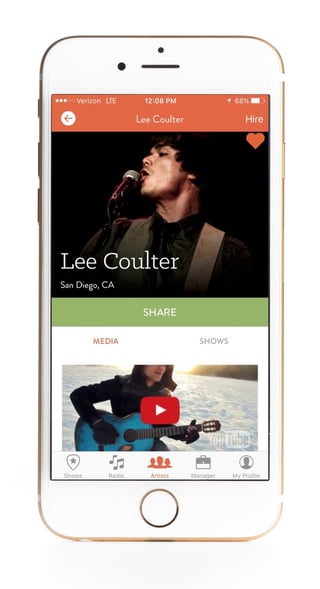 You might think that my typically dark and brooding songwriting storm clouds would not be
compatible with Lee's bright and cheerful songwriting sunrays. Quite the contrary. I respect and
love the light shining through Lee and his music. His musical output is pure, sparkly, genuine
energy that can't help but attract everything in its path. One of my favorite lyrics of his states
"There's a skip in the beat of the heart of the world cause you're a part of it." In addition to the
wonderful cadence of this line, the uplifting message is a powerful yet gentle nudge into the
realm of gratitude and purposeful living.
I need that nudge. Lee's songs make me appreciate all the tiny things we often take for granted.
His outlook makes me aspire to approach not only songwriting but also life from a more
positive angle. His soulful sincerity has a way of making me believe in myself and humanity in
general. I'm not saying the world needs fewer songwriters like me, but I am saying the world
needs more songwriters (and people) like Lee.
On a final business-y note, I've also had the pleasure of observing Lee from a booking
standpoint. I work for a corporate event planning company, and often my colleagues will ask
me for entertainment recommendations for their clients. Referring musician friends for
corporate events can be tricky because private/corporate gigs require so much more than
talent alone. Lee is incredibly professional and experienced when it comes to performing or
these groups, and the attendees really dig his music! As an added bonus, he even has
professional speaking experience on the topic of music as it relates human mentality, etc
If life's been handing you lemons, I urge you to look up Lee's upcoming shows on the GigTown
App. He'll fix you right up. If you're looking to book an artist or speaker for your next event, I
also urge you to reach out to him! I'm positive you will love Lee Coulter as much as I do!