Here we are again to give GigTown's radio a fresh and unpredictable spin! This week San Diego's Ottopilot is the newest group to take to the spotlight!
Now Playing:
"Runaway Train" (from Falling Forward, released independently Oct. 2014)
It's always fascinating how much a first impression can mean when it comes to getting to know a group or artist. "Runaway Train" by San Diego's brother-founded band, Ottopilot, (last name Vogt, not Otto!) is an enjoyable song for sure but, what kind of artistry does this piece show to listeners?
Right from the very first bar of the track, brush fostered snare hits, followed by a pristine sounding strum of one acoustic guitar, stirs up a laid back and casual air between the notes coming through the speakers and the listener's ears. When lead singer Brandon Vogt's vocal part kicks just a bar or so later, describing a scene so rustic and natural (The moon is out with some suspicion / then it builds within our vision / Where will we go when we know that the light's turned out? / So take us home tonight / And I don't need a place to go / I just need to pave the road.) one would be hard pressed not to think of this song as quite the Americana singer-songwriter style cut.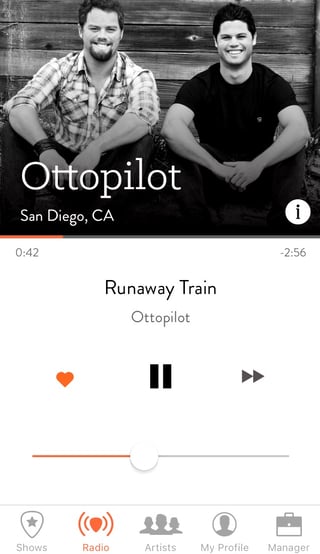 A few decorative, gracenote-laden harmonies sung between the brothers Vogt, with fleeting moments of vocal slide (What if I'm just a runaway, a runaway train tonight?) even bring a lightning flash of country-style twang to the track.
Alas, this bare bones approach is not with what Ottopilot generally align themselves –at least not entirely. Putting themselves out there as acoustic pop rock, brothers Brandon Vogt and Chad Vogt (backup vocals/guitar), along with newer bandmates Aviv Silverman (bass) and Alec Maier (drums) do show a smooth, acoustic side with tracks like "Runaway Train" but they're not without the ability to inject a bit deeper of a pulse into their music. If looked at under a larger panorama, the band's combination of live show collaborations and stylistic influences (OneRepublic, David Gray, John Mayer, Mat Kearney, Gavin DeGraw, Michelle Branch) make the whole of Ottopilot's songwriting fall into place just a little more clearly.
(Funny enough, there's a similar feel between "Runaway Train" and the rhythmic backbone of John Mayer's "Stop This Train" from the 2006, Grammy-winning album, Continuum.)
Neat, clean and with a delicate layer of sparkle draped over the whole song, the thoughts of a "Runaway Train" are liable to be those of an easy comfort, rather than a chaotic disaster –yet another way Ottopilot are more than what they project on the surface.
"Runaway Train" is part of Ottopilot's latest EP, Falling Forward, which is available now in the iTunes Store. The band has a full lnegth album in the works, (via Pacific Records) which is expected for release by the end of the year.
Listen for "Runaway Train" on GigTown Radio and look up Ottopilot on GigTown to catch (or book) their next show!