Lately it seems like everybody is releasing music by surprise. Guess our the unpredictable nature of our Radio Roulette must have been onto something! This week (our tenth already!) we're cueing up a song by Nashville country rocker, SaraBeth!
Now Playing:
"You Rock My Rodeo" (from self-titled EP, released via Circle S Records, April, 2015)
Who doesn't like a little pick me up once in a while? Sometimes, a song with a solid beat and a pumped up vibe is all a person needs to invigorate an otherwise average afternoon. Well Nashville, with its undeniable abundance of musical energy that runs the emotional gamut, has plenty upbeat songs and songwriters to fill that void.
SaraBeth is one of those artists and her massive following in and outside of Music City make it obvious her flavor of uptempo country is making a lot of people's days feel less mundane. Originally from further down south in Dallas, TX, SaraBeth is no stranger to the energy of country music and the applaudable string of releases she's turned out since her 2013 full length debut, Anything is Possible, backs up artist ambition with productivity. "You Rock My Rodeo" comes from her second extended play effort in 2015 and as an introduction to the stylings of SaraBeth, it's very easy to see and hear why the Nashville transplant is doing so well.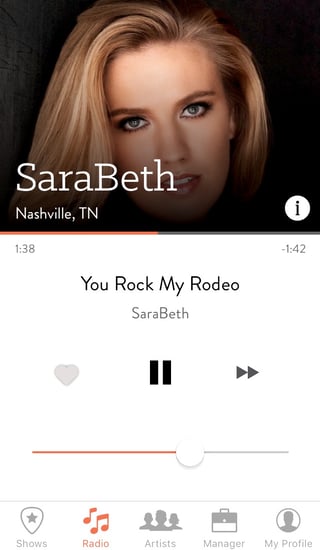 Outside the context of anything else in SaraBeth's arsenal, "You Rock My Rodeo" wastes no time running down into the well treaded path of modern country's road. A swinging, electrified fiddle with a classic droned, double stop starts off the song with an immediate but not overbearing swagger, which is swiftly built upon with the steadily alternating thump of a kick and snare beat and then the lyrics that look to be the capstone to setup this slick track.
Right away, out of the 'chute,
Soon as I laid eyes on you
I knew you were one of a kind.
Tight jeans, dusty boots
A 'take no bull' kinda attitude
It took eight seconds and you blew my mind
Lyrically and melodically, "You Rock My Rodeo" lines up perfectly. The beat and semi-twangy riffs start and stop in the perfect fashion to inspire audience claps, stepping in time to the song and infusing the air with a slice of attractive attitude. SaraBeth's vocals are on point and the song itself is the exact picture of balanced songwriting structure. Instrumental ingredients that create this straight up country stomper are all present: sliding guitar, Dobro, lap steel and that pumped up fiddle. It's a right ideal track to get the momentum of a party going and could comfortably be followed up by other popular tracks in SaraBeth's discography.
The only aspect that doesn't seem to completely line up in this track's "total package" presentation is exactly what makes it the kind of good it is. It's good. So good that grit has seems to have been taken out of the equation. Anyone who wants to have some bad boy, flirty vibes injected into their night can tap into the metaphors of "You Rock My Rodeo" no problem but that's just the thing: bad boys and flirting in general tend to come with a little edge, a little mystery, little jagged moments that make the energy between two people feel like it's teetering on the cusp of out of control.
---
"You Rock My Rodeo" is one of five tracks on SaraBeth's 2015 eponymous EP, which is out now via Circle S Records. The EP can be picked now up on iTunes. Connect with SaraBeth on Facebook, Twitter, Instagram, YouTube, and SoundCloud.
Get a listen to "You Rock My Rodeo" more of SaraBeth's songs through GigTown Radio! If you really like what you hear, dig up her listing in GigTown to book SaraBeth and or catch her next show!