Time to send everyone on another mini musical trip with the momentum of the Radio Roulette! This week we've stopped on a track by Los Angeles rock powerhouse, XO Stereo. Think the roulette can handle it?

Now Playing:
XO Stereo
"Send Me An Angel" (from The Struggle EP, released via Another Century Records, Oct. 2015)


XO Stereo, a rock/post-hardcore trio based in LA and active since the summer of 2013, is built on a foundation of its players' past experiences in other bands. Cooper Campbell (Vocals/Drums), Justin Whitesel (Guitars/Keys/Programming), and Jon Weisberg (Guitars/Bass/Programming) bring their musical colors and instrumental stylings from The Hollowed, LoveHateHero, and From First To Last respectively. Combining their energy and artistry through XO Stereo, the music of this new band is snugly but not excessively waving ribbons of familiarity between notes and mixtures that are singular and new. Pulling that off takes delicacy, as one wrong move and any of these past groups' vibes could start overtaking the air between the speakers of XO Stereo.
"Send Me An Angel" is a great example of what XO Stereo is made of – literally in skill and artistically in sounds. The song itself might be from a first release but these three rockers know how to pick up an instrument and create instant intensity. The result is a new track with the controlled, thoughtful fervor of enthusiastic band vets.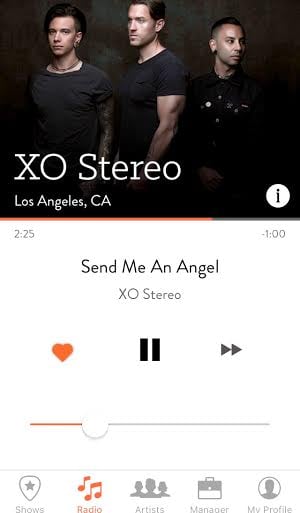 "Send Me An Angel" has undeniable heaviness; bassy synths and a prominent triple beat from the kick drum serve as the greeting committee to the song, dropping an anchor – almost like a message – and telling the listener, "Brace yourself, we're here to shake you up." Yet there's a lightness to the song early on as well, with laser synth sounds part of the hook, providing just a drop of alternative taste in the mix, like a quick but audible sonic nod to the likes of later Muse material and the multi-classified band, Anberlin. It's cleanly packed in its production values but keeps enough grit and audible tension to more authentically feel the power that had to go into each microphone at recording (an aspect Anberlin's Stephen Christian can probably relate to well).
The tempo is brisk and when paired with the gradually increasing number of elemental layers – more instruments, more reverb, more doubling of vocals – with each passing verse, there's an unavoidable stoking of the high energy fire happening as the song goes on. This crescendo-tilted overall approach never back pedals once, save for the intent of distinguishing the verses from the choruses, the latter being where the band flies on kinetic energy and lets the music expand. In terms an activity playlist curator would probably look toward, structurally, "Send Me An Angel" is an ideal contribution to any runner's music library.
Where "Send Me An Angel" deals with an interesting double-edged sword is in its lyrical component. The song's words are not nearly as aggressive as the band's amps might have you thinking; backing up the "plea to the heavens" title with talk of struggles around love and relationships – much the same as any musician who has ever had feelings for anyone, ever.


If a girl walks in and carves a name in my heart
I'll turn and run away
Everyday we've all been led astray
It's hard to be lucky in love


The instrumental versus emotional contrast makes the song stand out against its own genre ingredients, which is refreshing but, from a craft specific standpoint, the love-centric lines could likely have more impact if delivered using language of a more poetic and or sophisticated tone.


---
"Send Me An Angel" is part of XO Stereo's debut EP, The Struggle, out now via Another Century Records. The EP can be purchased through iTunes. Connect with XO Stereo on Facebook, Twitter, Instagram and SoundCloud.
Hear "Send Me An Angel" and more of XO Stereo's music through GigTown Radio and pull up their listing in GigTown to book the band and or catch their next show!