Welcome back to another week of Radio Roulette! After taking GigTown Radio for a new spin, Grizzly Business have come up as the next band to land in the airwaves based spotlight!


Now Playing:
"Rich Girls" (from self-titled EP, released independently, March 2015)


While the setup and introduction of Grizzly Business might ring a slightly similar opening line to roulette spin number four – hailing from San Diego and a four piece band – that's about where the similarities cease between last week and now. Walter Ayllon (vocals, guitar), Matthew Burke (drums), Corey McComb (guitar, keys), and Brian Vilven (bass), have been "murdering eardrums since 2013" but don't mistake such an aggressive statement as a direct carry over to what one will find underneath the melodic hood of Grizzly Business's musical woodshed. Not a hardcore band but instead, an outfit that loves its playful indie rock, with "Rich Girls," this Californian quartet gathers the staple ingredients of a rock tune but retains a foot in the pop sphere.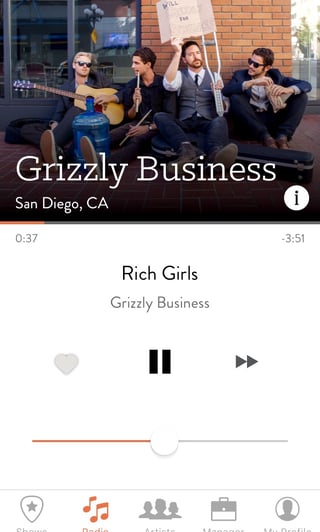 Thanks to jangly guitar tones, hooks built on syllables (just try not to get caught singing along to the recurring "ooo's" that drop in just shy of a minute into the track,) and an overall flow that moves along at a easy but peppy prance, "Rich Girls" could effortlessly slide into a variety of activity-based playlists – exercise, partying, frisbee on the quad etc. Somehow, like many other bands from the San Diego area, Grizzly Business are able to capture, and then re-project, another version of the kind of indescribable quality that sounds like "going down the coast on a sunny day" – whether that be done by biking, driving, or walking along the boardwalk. There's a thread of happiness that permeates the body of the song, despite the occasionally cynical lyrics (Don't give a shit so why should I? / Sit back and watching it die). The melody and harmony cruising along a route of closely together pitches and both continually hitting the tonic, provide a stable feeling of repeated resolution.
What's also interesting about Grizzly Business's sound with "Rich Girls" is the character in the vocals. While many reviewers have tagged in references to The Strokes with a less gruff voice than that of The Strokes' lead singer Julian Casablancas, for this specific song, there's instead, what almost feels like inflection of The Shins' James Mercer. It's as though this is what the Shins would end up with if they were singing on a beach and were dead set on creating an upbeat and more energetic song than some of their popular but brooding fare like that of "New Slang."
Returning to the aforementioned points about rock and pop, how this track embodies both so well lies is in the fact that its framework lays out the memorableness of the latter while the individual components and stylistic decisions (e.g. an echoing, mildly fuzzed over mix), keep the song grounded with intentionally less definition. There's a bit of amusing "art imitates life" in this summation, as the overall vision of a Californian shoreline is pristine and familiar while the individual aspects of that shoreline's sand and waves are neither predictable nor absolutely refined.
"Rich Girls" is part of Grizzly Business's eponymous EP debut release, listeners can get a copy now the iTunes Store.
Listen for "Rich Girls" on GigTown Radio and get in touch with Grizzly Business on GigTown to book the band and or catch their next show!