I'm still a newbie when it comes to Nashville having only been there twice, but one thing I've gathered is that Belcourt Taps is about as authentic Nashville as you can get.
Being the core of the recording industry, Nashville is known for its singer-songwriters. There is immense talent from top to bottom, and at one point or another, just about everyone has played at Belcourt Taps. It's a cozy little restaurant/bar that feels packed with 30 people. Strong pours, a great beer selection and amazing burgers that will put you in a food coma. But don't worry...
The food coma will be very enjoyable! You'll be serenaded by some of Nashville's best singer-songwriters playing writers' rounds 7 days of the week. In case you aren't familiar, writers' rounds are shows where 3-4 artists sit on stage together and take turns sharing their songs. Being Nashville, you get a wide range of music and talent, but amazingly every single artist I've seen there has been great. There are bands playing frequently as well, like the Dylan Altman Blues Band who rocks the house every other Thursday (Dylan Altman's resume is ridiculous, just FYI. And we share the same last name!).
In the month of June, Belcourt is going all out with their music schedule. You can access it here. The highlight is the Iceman's New Country Music Artist Fest happening 6/9-6/12. Schedule is below: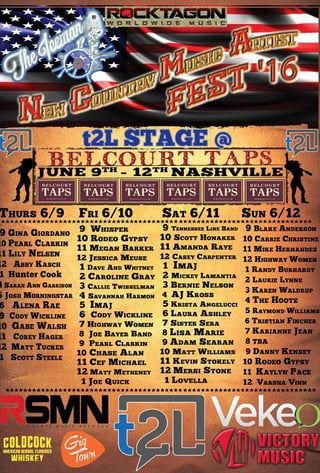 All that said, Belcourt Taps is more than just good music, food and drinks. Rose and Tom, the owners of the joint, are awesome people. Rose is one of the biggest supporters of local musicians that I've met throughout this GigTown journey. I originally met her in Austin at our showcase, where she asked me if the GigTown Tipping handouts were for real, or if they were just a short promo we were doing at SXSW. When she realized that she could get her artists paid at Belcourt Taps using GigTown, we started to see tons of new signups and tons of people checking in at Belcourt Taps. To date, over 1,000 people have Checked In at the venue. Now GigTown owes it to Belcourt to bring them all back, with their friends!