Hello GigTowners! Andy here, your Grand Poobah :)
As we approach the end of a pivotal year for GigTown (and the human race), we thought it was a good time for some reflection and gratitude. What better way to do that than to think through all the amazing musicians on GigTown and give some props to the artists that deserve it? I'm excited to present to you GigTown's Artists of the Year for 2016. These artists stand out among their respective local music scenes for one reason or another. It could be because they continually get amazing feedback when they play gigs. It could be for an incredible song they've written. It could be because they have gotten a ton of fans to Check In at their shows or like their songs on the app. Basically, these artists have won GigTown's love and affection, and we're just showing some gratitude.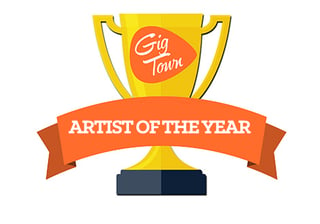 I'll be announcing a new award winner every day until the end of 2016 on Facebook and Instagram. I haven't made every decision yet, so please do show some support your favorite artists by sharing their profile and tagging @gigtownmusic on Facebook or Instagram. At the end, we'll have a great gallery of artist profiles to proudly display to music fans and venues across all of our GigTown cities!
Cheers!
Andy