Welcome back for another installment of GigTown's Radio Roulette!
This week's spin pick comes to the blog courtesy of indie folk musician, Bryarly!
Now Playing:
"Working Steady" (from Self-titled album, released independently, October, 2014)
It's not usually the wisest idea to lock in one's ideas about an artist or their music based purely on surface value – at least not initially. If elements on the surface end up somehow syncing up with the substance underneath, that's mostly a side benefit. In the case of Los Angeles's Bryarly, the latter situation does work well to the indie folk singer's advantage.
There's something that feels almost stately about the name Bryarly; projecting an air of slight propriety. Perhaps that's partially due to the Atlanta, Georgia transplant's full name being Bryarly Bishop. Bishop, chess, chess, formal, formal, propriety. Regardless, diving ears first into "Working Steady" with a presumption of delicacy, and maybe with a presumption of lyrical openness often paired with folk music, doesn't hurt the listening experience one bit. The 3:21 track actually benefits from such a mental setup, as the message within "Working Steady" unfolds like a steady shower of words – honest and poetic in its quasi confessional-like format of songwriting.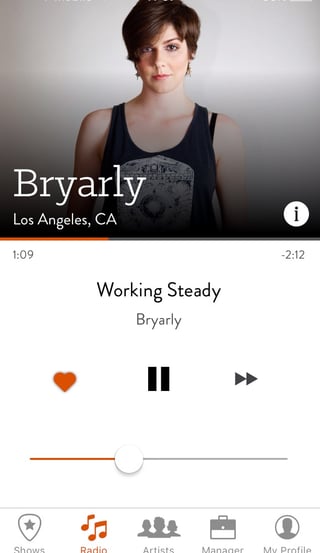 Musically, the track delivers half like an up close and personal folk ballad, and half like a dance directed with just a touch of hip-hop swagger. The verses are verbally dense but Bryarly perfectly articulates them; requiring an attentive ear upon the first listen if words are not to be lost.


I'm emptier than anybody ever said that I would be.
This honeysuckle doubt is clingin' deep into the spine of me
And even though I'm movin' fast and stayin 'on track.
I keep lookin' back, I keep lookin' right back.


The instruments at Bryarly's disposal are a friendly lot: piano, electronic drums, organ, and her own vocal, which sings with a plain but on point earnestness and effect-less presence that adds to the confessional setting at hand. When stacked up, the strength of "Working Steady" stands tallest thanks to how the singular components reinforce the big picture of the song's determined vibe. Tying together her genre, her voice, the organ-centric bridge (one that could fit in any gospel tune from her hometown of Atlanta), and a chord progression that feels like a shoutout to the ultimate, stately composition, Pachebel's "Canon in D Major," "Working Steady" is delightful for what is created out of the sum of all its parts. Bryarly hasn't cranked the complexity meter up to 11 with this piece but sometimes that's not what gives a song the most power. Discover and hear "Working Steady" at just the right moment in ife when its lyrics correlate to some personal struggle or endeavor and it's hard to ask for any better way to get an introduction to a new artist or to feel the greatest amount of this song's impact.
"Working Steady" can be found on Bryarly's first eponymous, studio album. The record is available now on Bandcamp. Connect with Bryarly on Facebook, Twitter, and YouTube.

Those who find themselves rockin' to Bryarly's original material should also check out her recent collaborative work by way of guest vocals on the album MMCCXV. The record was created by the group High Five Spaceship, which is helmed by film maker-musician-lecturer-YouTube creator, Christopher Bingham.

Hear "Working Steady" and more of Bryarly's music through GigTown Radio and look up Bryarly in GigTown to book her and or catch her next show!