We're taking GigTown's built in radio for a first time, roulette-style spin and singer-songwriter Dawn Mitschele was the first artist to cue up!
Now Playing:
"Lamplighter" (from Love Remains EP, released independently, April 2012)

A musician local to the San Diego, CA area, Mitschele is actually a west coast transplant –originally hailing from New Jersey. A solo artist who promotes her ability to bring just the right sound to a variety of occasions in need of music, the brief introduction in Mitschele's GigTown artist profile doesn't do her songs the descriptive justice they deserve. Just this one song playing through GigTown's radio elicits an appealing palate of thoughts: friendly, intimate, natural, familiar. "Lamplighter" glows with the light of a polished but approachable Americana tune played out by one's backyard bonfire.

"We'll light up the town and light up the city
and make things glow and make things pretty.
And where are you now? It's getting late.
The streets are growing dark
We're all here waiting again."
Chords gently strummed on Mitschele's acoustic guitar find themselves dancing loosely in the company of a snappy snare drum, subtle cello, and a prominently singing violin that slides between a graceful legato and prancing fiddle. All of this topped with twinkling upper octave piano notes that fall like drops of rain. Now try and say all of that put together doesn't sound like something straight out of a warm summertime evening with one's long time friends and neighbors!
"Lamplighter" is tied together with the string of Mitschele's clear vocals that project a delicate glaze of southern inflection similar to that of Kacey Musgraves. Where the song pulls back on arrangement intricacy, it shoots forth in the imagination department. Odds are those who play the track will come away with a vivid scene, specific emotion(s), and possibly even a personally relatable memory to go with it. In this way, Mitschele undeniably delivers in her pairing sound with situation.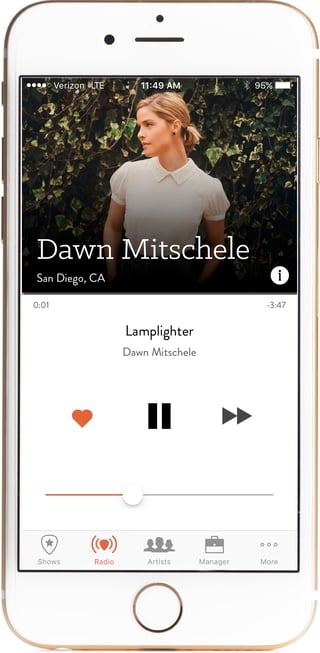 "Lamplighter" is an older tune of Mitschele's but more recently – coincidentally during the summer – she released a new full length work titled All of Our Days (independent, July 2015) that indeed explores an assortment of other songwriting styles, each illuminating their own scenes and stories.
Listen for "Lamplighter" on GigTown Radio and find Dawn Mitschele on GigTown to catch (or book) her next show!