The Austin live music culture and their local artists are the real deal
GigTown made it out to Austin a couple weeks ago to hang with a bunch of cool people who are big time local music supporters. Among them – the Austin Music Foundation, a nonprofit dedicated to helping artists in the Austin music community get on their feet, stay on their feet, and thrive in a tough but extremely active market. Also, Black Fret, another nonprofit that operates on the premise that local, live music is an art form. In the same vein as theater and other fine arts, which rely heavily on donations to sustain themselves. Black Fret members make one contribution per year and then the organization gives those donations in the form of grants to some of the top-tier local musicians. The artists can only unlock these funds by producing new music, touring, or playing charitable gigs. These are just two of many organizations that are cogs of the Austin music scene, demonstrating just how far-reaching the community support for local artists is.
Truly an honor to have the opportunity to say a few words at the Black Fret Ball in Austin, TX. Check their organization out - they are doing big things for local music. GigTown will be back for more very soon but in the meantime, keep keeping it weird.#Austin #AustinMusic #GigTownAustin #grateful #blackball #blackfret #atx

Posted by GigTown Music on Saturday, December 5, 2015
Grand Poobah at The Black Fret Ball, Dec. 2015
While in town, we really saw that Austin music community in action, and a great example was our experience at Friends Bar, right off the main drag of 6th Street. After an awesome Black Fret event where we got to see local live musicians Bee Caves, Leopold and His Fiction, and Magna Carda play (they are all amazing), we followed some of our new friends over to Friends. Once inside, it took all of 10 seconds to realize we were watching one of the raddest shredders in town. Eric Tessmer's left hand was flying all over the fret board as he laid down lick after lick. His drummer and bassist were tight, and clearly knew how to back up Eric in a way to fully let him wow people. And that he did.
About halfway through his set, Eric jumps off the stage (he had a wireless hook up for his guitar) and starts playing right in front of the audience. People were basically just staring in awe. If I'm the bar owner, I actually might've been kind of bummed because a lot of the crowd was too blown away to actually drink (I'm proud to say, I managed to watch and drink ;-)). Then, Eric starts walking through the crowd and towards the back of the long, narrow bar. Everyone he walks by doesn't know what's going on, but they're still staring because they know it is awesome. He gets to the end of the room and then goes behind the bar. Then he hits a lick with his left hand that he holds by just switching his index and middle finger, and with his right hand he pulls out glasses, tequila, and pours 8 shots. He passes out the shot glasses to the bar staff and has someone run some shots over to his band, says cheers to the crowd, and downs it. THIS WHOLE TIME HE WAS STILL PLAYING!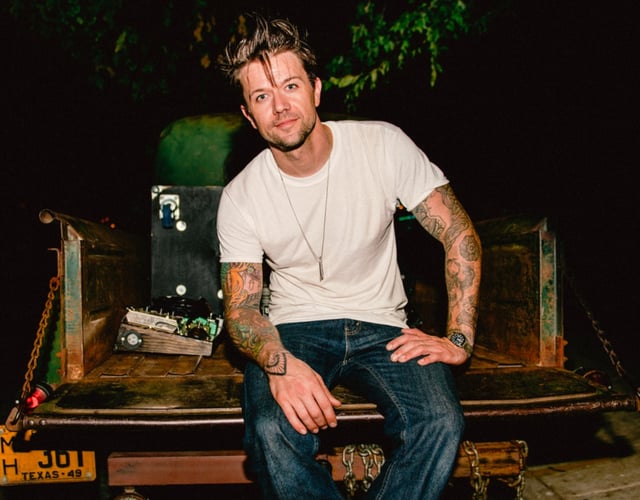 Photo Credit: Jacob Weber & TipCow
Then a couple things happen outside of the mind-blowing, ultimate guitar performance that I think are noteworthy. Eric gets back on stage and lets everyone know that he is playing for tips, and that the tip jar is going around. Okay, I get that there is a lot of talent in the Austin music scene, but this dude needs to get paid. As the tip jar went around, I was pretty stoked to see people dropping bills in. I'm pretty sure Eric and his band had a decent night, which really shows why the Austin music scene is so well-known. There is a large community of Austin music supporters that are diehards. The people we went to Friends Bar with literally donate money each year to local musicians, and after supporting Austin music at their own organization's event, they go out for more just because they love it.
All of this is just a long way of saying that the Austin music scene is rad, and if you ever make it out there, you need to catch Eric Tessmer. The dude shreds and even if you aren't the biggest blues fan, I bet you'll find something to appreciate about the show. He's regularly playing all over town, and has new music in the works, so "heart" him on GigTown, follow him on Facebook, and keep an eye out!