One Year in Reflection: THE INS-AND-OUTS OF THE SAN DIEGO MUSIC SCENE
Barely over one year ago, we started hitting up local artists in the San Diego music community to get signed up with GigTown for our 'beta' test. 12 months, 600 San Diego musician signups and $200k+ in bookings later, I feel like I've gained a fairly unique perspective on the San Diego music scene and have a lot to say about it, some good and some not so good. Take it for what it's worth as it's just one person's opinion... but regardless, here are my thoughts.
On the bright side…There is a ton of talent in San Diego. The San Diego music community straight up does not get enough credit. The singer-songwriter scene is booming, with so many artists that craft awesome songs and put them out there with beautiful vocals. In no order, Raelee Nikole, Dawn Mitschele, Ryan Hiller, Tolan Shaw, Jonny Tarr, 22 Kings, Bob Peace – I just named artists with styles that go from reggae to funk to folk and bluegrass. All of these musicians are super talented, and that's literally not even scratching the surface.
Then, you get into the alternative scene and you'll discover some unbelievable local groups like The Verigolds, Inspired and the Sleep, Digital Lizards of Doom and Grizzly Business. It's like we have our own, local versions of bands like Metric, Alt-J, Ratatat and The Strokes. High praise, but I promise you'll catch those vibes if you go out and hear them live. There's a thriving Jazz community that goes under the radar, led by artists like Gilbert Castellanos, Danny Green, Matthew Smith and David Patrone. Of course, San Diego is fairly known for reggae, with nationally-touring-but-still-local artists like Stranger Band, as well as up-and-comers like Sandollar and Ginger Root & The Protectors.
There are lots more amazing artists in San Diego, but hopefully that gives you some small idea of what the city has to offer. The takeaway – San Diego music is by no means lacking for talent. But the scene faces some challenges that make it difficult for it to stack up to the "music cities" of the world like a Nashville, Austin, or Seattle.
Despite the talent, America's Finest City is in need of the infrastructure to fully support these artists as they grow and move to the next level. It is difficult for local venues to procure full music licenses, which is why many restaurants and bars turn to acoustic background music, generally cover-song driven, to enhance a customer's experience as opposed to putting the music at the forefront. This enables more singer-songwriters to play cover music in order to support the creation of their own music, which is great. But many of the traditional bands lack venues to play on a recurring basis. Whereas you walk down a single city block in Austin or Nashville and see 5+ venues with 3+ piece bands, in the San Diego music scene you're lucky to have one such venue on a city block.
Similarly, there is no single area in San Diego that has a high density of local live music. In Austin, you're headed to 6th, Southern Congress or Rainey. In Seattle, you're heading to Ballard. In San Diego, while there is live music around downtown, Encinitas, La Jolla, and so on, it's hard to say, "I want to go out for live music tonight…let's go to X area."
With all that said, the San Diego music scene has something special going on if you just know where to look. There is a little bit of everything on any given night of the week, whether you want to grab a drink and chat with some nice ambiance or go rock out at a concert venue. There is a tight-knit community of supporters who actively and persistently do whatever they can to get artists out there, and although San Diego gets a reputation for being a laid back town, a good amount of artists are working their butts off to sustain and grow their music careers...so cheers to you!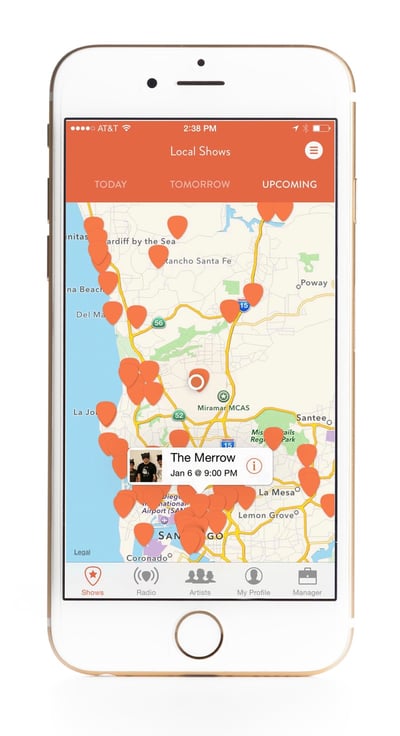 Overall, there is a lot to be optimistic about and I'm excited to see where San Diego music can go in the next couple of years. It'll take some time, but if the city can add a few more music venues and if musicians continue to work on their craft the way they are, people will become increasingly educated on the fact that there is a music scene that is very much worth supporting here. It's a matter of time, hard work and education before we're there. And then the real fun begins :)
GigTown is down, I promise that much. Hopefully you are too.
-Andy